The Course and Golf Facilities
With the club founded in 1926 when a group of Toronto businessmen purchased a farm north of Toronto, Oakdale hired Stanley Thompson to craft the initial nine holes, with the designer adding nine a few years later. Canadian designer Robbie Robinson added the final nine in 1957.

Now nearing a century since it opened for member play, Oakdale remains one of Canada's great golf clubs. Sure, the setting has changed—once located on a dirt road north of the city, Oakdale is now in an urban hub, making it ideal for those living in Toronto.

The course, with its three nines, is magnificent, rambling over rolling land, with the picturesque Black Creek running throughout the design. The course is complemented by a full practice facility, allowing members to hone their games, and PGA of Canada Professionals run an active list of golf events throughout the year.

Playable and easily walked, Oakdale is one of the great city courses in Canada. Restored in recent years to Thompson's vision by noted architect Ian Andrew, Oakdale is as vibrant and vital as it was when it first opened.
"I have seen few properties better adapted to the layout of an 18-hole golf course of championship calibre."
—Stanley Thompson
Three Nines—One Incredible Golf Facility
Thompson
By placing a premium on shot making, Oakdale's Thompson nine is sporty and brilliant. Running over some of the best parts of the property, length isn't the distinguishing factor of this nine; rather, the natural topography defines many of the course's best holes.
Homenuik
The longest of Oakdale's three nines, the Homenuik nine, named after the club's long-time Teaching Professional Wilf Homenuik, asks players to hit golf shots off the tee in order to score well. Armed with a variety of tee options, this nine is still ideal for players of all abilities.
Knudson
Designed by Robbie Robinson, this nine is named after Canadian great George Knudson, who played out of Oakdale for many years. Built on a rolling piece of property, it was recently renovated by Ian Andrew to offer a cohesive look in tune with the other 18.
Architects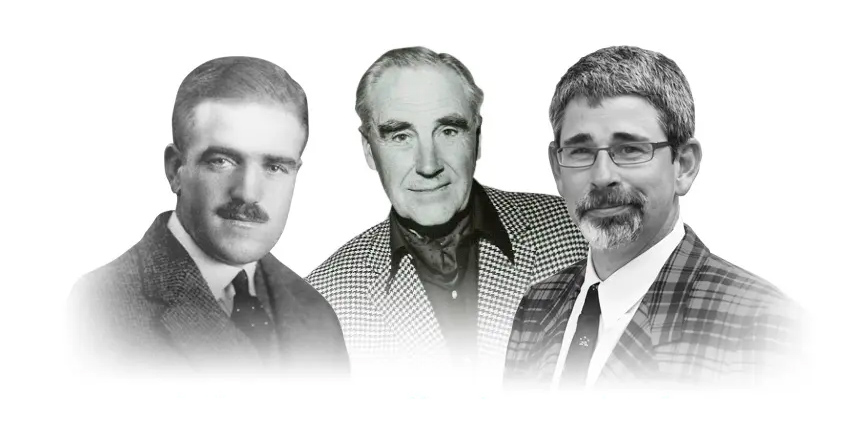 Stanley Thompson. Robbie Robinson. And now Ian Andrew.
Three great Canadian golf designers had a hand in creating Oakdale.
The property was initially a farm, and Thompson, the Dean of Canadian golf architects, was brought in to craft a design. He'd add nine additional holes later.

"What Thompson found at the Oakdale farm was a relatively barren field full of large rolls in the land that dropped towards a meandering stream," wrote Robert Thompson in The Golf Courses of Stanley Thompson. "The best holes utilize both elements to great effect."

In 1957, only a few years after Thompson's death, Robbie Robinson, a protégé of the great Canadian designer, added nine holes to the property.

In recent years the property has been restored to Thompson's vision under the direction of Ian Andrew, Canada's most noted restoration architect. Under Andrew's guidance, trees have been removed to open up vistas, bunkers were restored, and alterations are being made to Robinson's nine to make it more in line with Thompson's vision of the property.
Additional Services
Keep your game sharp all year long!
From junior programs to leagues for both men and women, Oakdale also offers two golf simulators in the winter months for members who wish to practice or take lessons from the club's PGA of Canada professionals.